The 7" DuraTech Thru-The-Wall Kit is a top-rated customer pick and preferred by professional installers.
Included in this 8" DuraTech Kit:
7" DuraTech Rain Cap
7" DuraTech Adjustable Galvanized Wall Straps - 2
7" DuraTech Stainless Steel Tee with Cap
7" DuraTech Adjustable Galvanized Tee Support
7" DuraTech Pipe Length
7" DuraTech Wall Thimble
7" DuraTech FInishing Collar with Adapter
Options Available Include.
7" DuraTech Spark Arrestor
7" DuraTech Extended Roof Bracket
Not Included in this kit.
7" DuraBlack, or DVL Black Stove Pipe Lengths
7" DuraTech Chimney Pipe Sections Lengths
The 7" DuraTech Thru-the-Wall Kit contains all the components needed to install a 7" chimney (excluding black stove pipe and DuraTech chimney sections) through the wall and up the side of your home.
This kit includes : (from the cap down)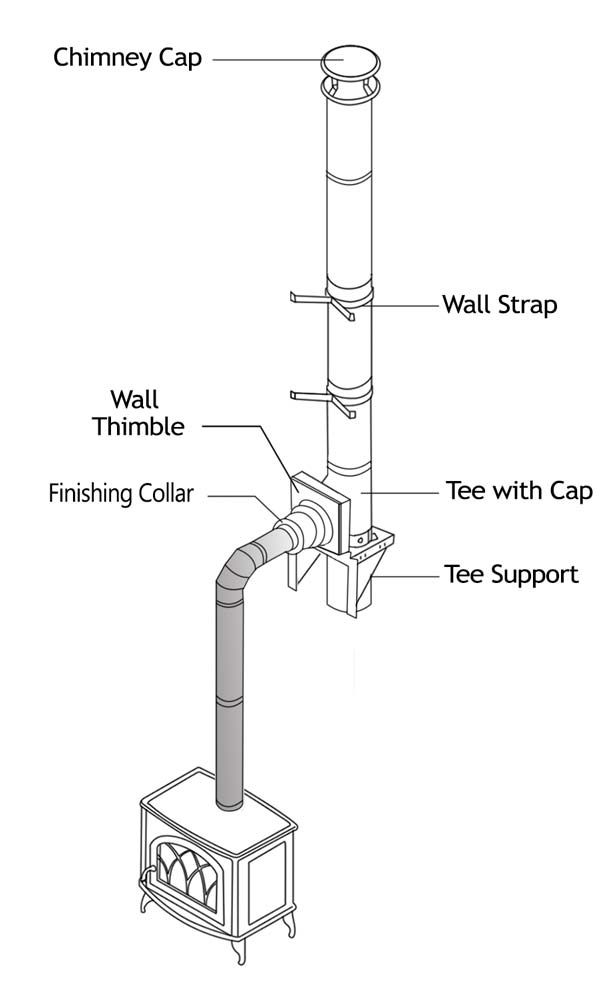 7" DuraTech Rain Cap - A chimney cap is required where the pipe terminates above the roofline. This DuraTech Chimney Cap is made of stainless steel and designed to twist-lock on to the chimney pipe. Removable screws allow for cleaning of the chimney and the spark arrestor screen. Shown with optional spark arrestor screen (sold separately).
7" DuraTech DuraTech Adjustable Galvanized Wall Straps - Adjustable Wall Straps are designed for use in interior or exterior chimney installations to support and stabilize the chimney. They assure 2" clearance to 6" clearance to combustible walls and are required every 8'.
7" DuraTech Stainless Steel Tee with Cap - The DuraTech Tee with Cap is used start chimneys outdoors or indoors when it is installed inside a chase. The removable tee cap makes for easy cleaning and inspection of the chimney. The Tee with Cap must be installed with wall straps, a wall thimble, and an adjustable tee support bracket.
7" DuraTech Adjustable Galvanized Tee Support - The Adjustable Tee Support Bracket is used as wall support for the tee and chimney. It features an adjustable base to provide 2" to 6" clearance to the wall and attaches to chimney pipe above or below the tee. The triangular bracket on the Tee Support may be inverted.
7" DuraTech 7" x 12" Chimney Pipe - Use when passing through the wall thimble when you are passing DuraPlus Chimney through an outside wall. It must be installed with the wall thimble. This length connects to the Tee on the outside of the building. Then one of three adaptors are used to connect the appliance connector pipe.
7" DuraTech Wall Thimble - The DuraTech Wall Thimble adjusts from a minimum of 4" to a maximum of 10", and fits between standard wall studs. To accommodate thicker walls, the telescoping pieces can be separated, and a field-fabricated extension installed. The interior trim ring is painted black. The Thimble must be installed with DuraTech Chimney pipe horizontally through the wall and extend 6" into the room beyond the interior wall.
7" DuraTech Finishing Collar with Adapter - New integrated collar with adapter, fits into the female end of the chimney pipe to provide a decorative black finish. Use on chimney pipe that is suspended with the roof support system or on pipe that is passing through a wall thimble. Provides connection to black DVL or DuraBlack.
Specifications:
.020'' 430 stainless steel inner wall
.016'' 430 stainless steel or .021'' galvalume steel outer wall options
Thermal Tech (ceramic refractory) blanket insulation encased between walls
Stainless steel end rings to seal the pipe
Light weight insulation, twist-lock fittings, support boxes with factory installed starter sections

WARNING: This product can expose you to chemicals including Chromium, which is known to the State of California to cause cancer and birth defects or other reproductive harm. For more information go to http://www.P65Warnings.ca.gov.
| | |
| --- | --- |
| Clearance | Non-Clearance |
| Country Of Origin | United States |
| Product Type | Chimney Kits |
| Product Type | Chimney Pipe |
| Season | Everyday |
| Diameter | 6 Inch |
| Pipe Wall | Double Wall |