Convert your existing linear fluorescent fixture to LED lighting without needing a comprehensive reinstall with this Type A LED Glass Tube. LED tubes are ideal for those seeking high energy savings with minimal installation time. The existing fixture is wired to bypass the ballast, which further reduces energy use, and eliminates the need to check ballast compatibility. Additional maintenance savings are realized by removing costs associated with replacing ballasts.
This tube requires non-shunted sockets and in-line 1A fuse.
Ballast Bypass tubes, otherwise known as "Direct Wire" or "Type B" tubes are a quick, easy installation. Ballast Compatible tubes require rewiring to bypass the ballast which saves you the hassle of checking ballast compatibility.
This 4ft LED T8 Direct Wire Tube is a perfect pick for any commercial or residential setting.
We offer plenty of wattages and color temperatures, perfect for any environment. Whether you need Single or Double Ended Power, Lightup has you covered. What's the difference, you ask?
Single Ended vs. Double Ended
Single Ended
Single Ended Power tubes are LED lamps that have neutral and live pins on the same side.
These type of tubes require Non-Shunted Sockets
Single Ended lamps installed by Direct Wire application, do not need a ballast.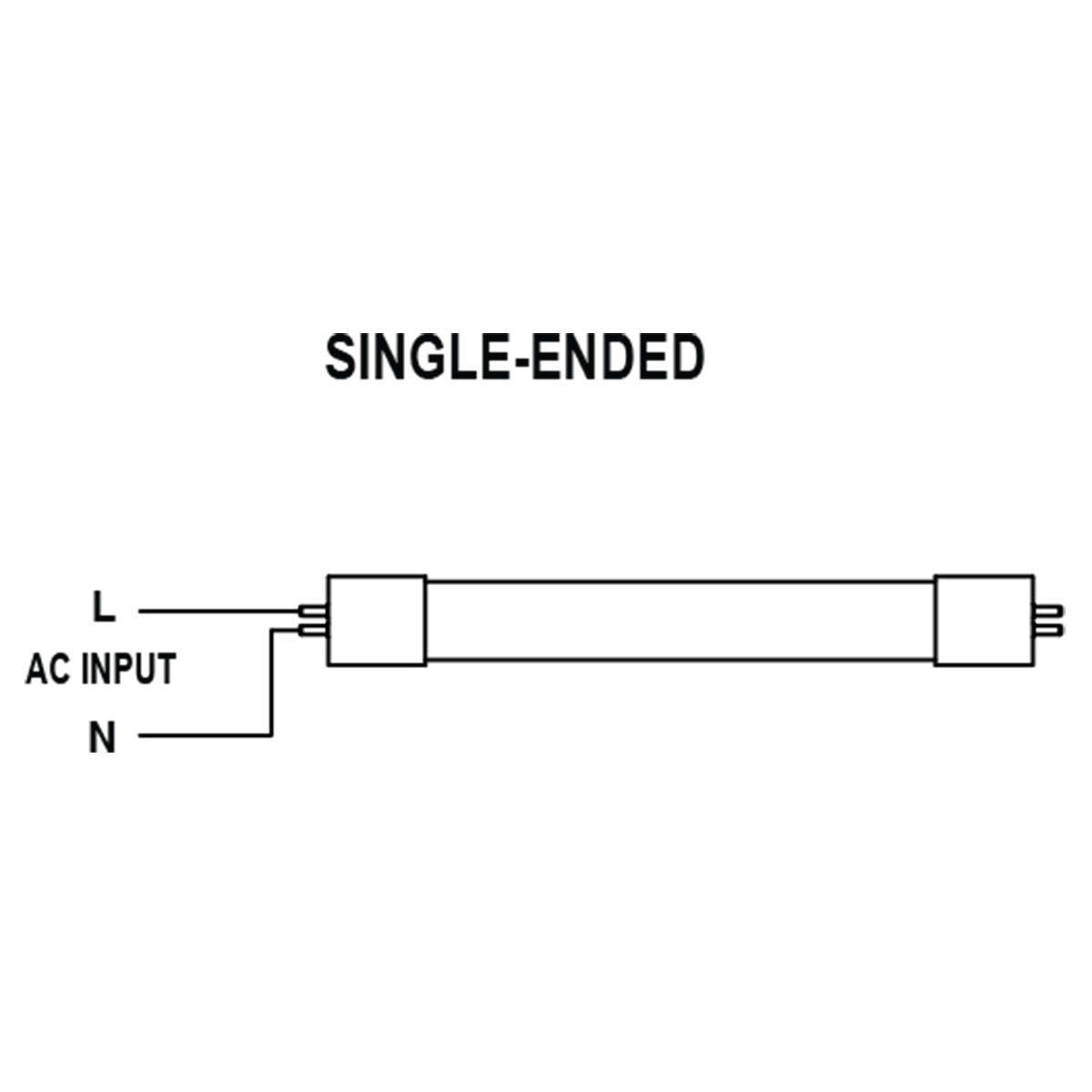 Double Ended
Doubled Ended Power tubes are LED lamps that live and neutral different sides.
These type of tubes can use both Non-Shunted Sockets and Shunted Sockets.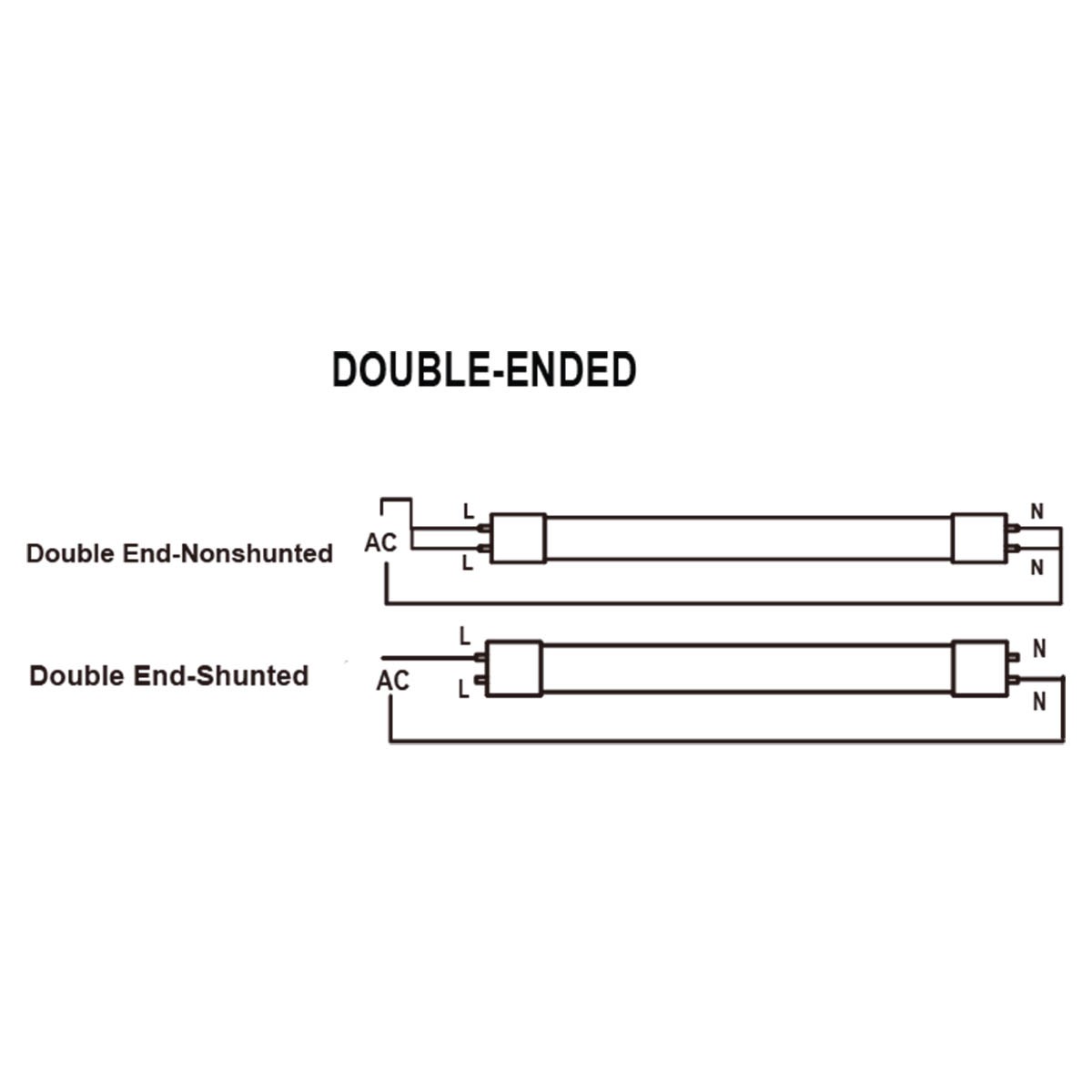 | | |
| --- | --- |
| Case Qty | 1 |
| Color | 3000K Soft White |
| Country Of Origin | China |
| Season | Everyday |
| Warranty | 5 Year |
| Approvals and Listings | RoHS Compliant |
| Approvals and Listings | UL Listed |
| Base Type | G13 |
| Beam Angle | 270 Degrees |
| Compatibility | Type B - Direct Wire / Ballast Bypass |
| CRI | 80 |
| Features | Instant On |
| Features | Long Life Span |
| Features | Mercury Free |
| Features | Warranty |
| Features | Damp Location Rated |
| Features | Glass Housing |
| Features | Non-Dimmable |
| Features | Flicker Free |
| Length | 3 ft. |
| Life Hours | 50,000 Hours |
| Light Source | LED |
| Lumens per Watt | 125 lm/W |
| Lumens Range | 1,500 - 3,000 Lumens |
| Operating Temp - High | 40C / 104F |
| Operating Temp - Low | -20C / -4F |
| Operation | Single Ended Power |
| Recommended Uses | rohs_compliant.png |
| Recommended Uses | damp_location.png |
| Recommended Uses | ul_listed.png |
| Shape | T8 |
| Voltage | AC120-277V |
| Wattage | 13 W |
| Right Overlay Image | direct-wire-prod.png |
| Clearance | Clearance |
| Product Type | LED T8 Tubes |
| Left Overlay Image | 20-pk-label.png |
| Lumens | 1600 |